Airways International Ltd (AIL) is the commercial arm of Airways New Zealand – providing training, digital solutions, aeronautical information management, procedure design and aviation consultancy services globally to air navigation service providers (ANSPs), airlines and airports.
We offer globally recognised ATC training programmes, advanced simulation and selection solutions, and interactive learning resources to help our customers achieve lower training costs and higher success rates.
We also partner with airports, governments, aviation technology suppliers and other ANSPs to develop future-ready innovative procedures, air traffic management (ATM) and uncrewed traffic management (UTM) solutions, through leading-edge thinking, nimble execution and strong collaboration.
TotalControl simulators​ delivered
Countries we've worked in
SureSelect ATC selection tests completed
AKO virtual courses delivered
Flight procedures designed
International ATC trainees

TotalControl
A flexible, proven and reliable simulation solution with unparalleled photo-real graphics and an easy-to-use interface.

AirShare
A proven UA traffic management system, providing airspace intelligence and management for uncrewed traffic.

Airways Training
Providing top quality air traffic services training for customers globally, with some of the highest success rates in the industry.

AKO
Airways Knowledge Online (AKO) is a world-leading virtual training academy for the aviation sector, with a range of courses available.

AirBooks
Our range of interactive learning resources allowing students to work self-directed and learn any time, anywhere.

SureSelect
A validated, objective and automated solution helping you to choose quality ATC candidates using ATC-specific testing.
Aeropath
Global specialists in aeronautical information management and navigation procedure design, with experience across the globe.

Aviation Services
Equipment infrastructure and maintenance, upper airspace management and aviation consultancy services.
Upcoming AKO virtual courses
051 ATS Licensing Subjects
ICAO Language Proficiency Rater Training
OJTI Refresher
Watch Supervisor
ATC Assessor
ATS Incident Investigation Training
OJT Instructor
Human factors training
051 ATS Licensing Subjects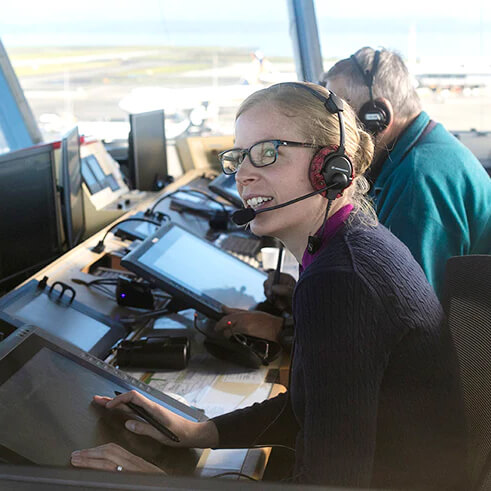 051 ATS Licensing Subjects
7 February-1 April 2023
---
The 051 ATS Licensing Subjects course contains a series of seven modules, providing students with a comprehensive introduction to Air Traffic Services. This training programme forms the essential base knowledge for all other air traffic control and flight information courses (Aerodrome Control, Approach Control Procedural, Area Control Procedural, Area and Approach Control Surveillance, and Flight Services).
ICAO Language Proficiency Rater Training
OJTI Refresher
Watch Supervisor
ATC Assessor
ATS Incident Investigation Training
OJT Instructor
Human factors training